Perimeter Sound : Acid and REX Loops & Zebra Patches
Be sure to check out this latest news and updates page often for the most current info on all of our new Acid and REX loops & Zebra patches releases. This is also the place to get the first word when we have one of our sales discount offers on our Acid and REX loops & Zebra patches. Go grab our free try-before you buy Acid loops packs & free Zebra patches packs from the WebShop.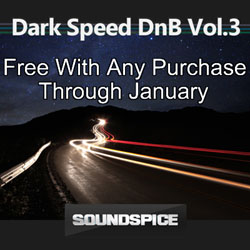 January 9th, 2016 – Welcome to the new year, and a new special offer. From now until the end of the month you can get yourself a totally free copy of the SoundSpice loop sample set 'Dark Speed Drum-N-Bass Vol 3' with any purchase from Perimeter Sound or SoundSpice at Producer Loops.
January 8th, 2016 – The Ambient Glitch Bundle Vol 4-5-6 is available now. Get the second trilogy at a discounted price every day of the week. Over a gig and a half of unique material (not counting multiple formats) including some live guitar & bass, tons of synths, beats / percussion and even some clanks.
November 25th, 2015 – We have re-released the Feldspar Fx – Perimeter Sound Special Edition vst plug in as a special holiday gift for all of our music making friends.

Grab it in the Webshop, top of the page, the download link is in the text of the Perimeter Complete Collection description. Special thanks to Chris @ Contralogic the creator of the plug-in.
November 20th, 2015 – Thanks again to everyone who has contacted us about the Cyberpower review. Just glad to pass along a warning to some music making friends.

Be sure to check back next week for our Thanksgiving/Black Friday sales. We'll have the Perimeter Complete Collection on sale for x-mas, so if you missed the intro offer, you still have a chance to get it ALL at a crazy discount in December !
November 11th, 2015 – So many folks contacting us and leaving feedback about the Cyberpower surge protector warranty failure review note. Thanks for all the good words, and I can only say contact them, nag them, be heard ! The claims adjuster's email address is on this page.
November 4th, 2015 – Perimeter Sound is proud to announce the release of our all-in-one bundle : the Perimeter Complete Collection. All 15 of our loop sample collections, 7 gigs of Acidized .wav and REX loop samples for one super discounted price. Available in the webshop now. Also, check out our new reduced price on the Line 6 Gearbox POD Farm tone sets bundle, lower every day price and take an extra 20% off through the month of November !
November 2nd, 2015 – Visit our Webshop and get the brand new Pro Sessions Bundle freebee try-before-you-buy loop sample set ! No sign up required, and no demo restrictions on use, just a gift for our looping & sampling friends.
October 28th, 2015 – I feel compelled to offer a warning about Cyberpower surge protectors and how they may fail to work, and about how you can still be denied the "lifetime" gear protection warranty they supposedly offer on them Read the Warning here after having my recent warranty claim denied.
October 2nd, 2015 – A Perimeter Sound interview has been posted over at the Noizefield "Make Better Music" website.
June 25th, 2015 – Updated our SoundCloud for the first time in quite a while. Added 2 works in progress that might turn into some Acid and REX loops down the road. Check them out if you get a chance to.
June 5th, 2015 – We are happy to announce our latest loop sample set, available now – World Tek Vol. 4 Acid and REX loops collection. Featuring synth & bass loops made with the recently released COILED Zebra patches soundset. And 3 times the number of beat & percussion loops as the original trilogy sets had. The tempo has also increased, with almost all of the loops between 120-140bpm for better use with modern EDM styles. Check out the demo and grab the little freebee try-before-you-buy pack today.

April 30th, 2015 – COILED : brand new set of Zebra patches has been released and is available in the WebShop now ! Check out the mp3 demos and grab the small freebee try-before-you-buy pack of presets from the full COILED soundset.
March 9th, 2015 – We are excited to announce that the Ambient Glitch Vol 6 Acid and REX loops sample library has been released.
February 6th, 2015 – 10% off select related Acid and REX loops & Zebra patches with your purchase at checkout now with our new instant savings offers 7 days a week !
January 6th, 2015 – Welcome to the new year, we hope everyone had a good holiday season. New Acid and REX loops & Zebra patches products coming soon.
November 7th, 2014 – The Bio-Mechanic Beats triple bundle has been released. 'Wireless' is included as a free gift with purchase of the Bio-Mechanic Beats triple bundle. And 'Wireless 2' is now included as a free gift with the Kunundrum triple bundle. This is a chance to get some great patches for the TONE2 Firebird+ synth plug-in totally free.
September 21st, 2014 – SH4RP for the U-He Zebra V2.7 softsynth is now available in the WebShop ! Over 200 new Zebra patches, all with arp variations and modwheel & all 4 X/Y pad assignments. Check the demos out and grab the try-before-you-buy free presets pack.
September 3rd, 2014 – They're up ! Hit the WebShop for some free Acid loops from almost every one of our sets, and also some free presets from our Zebra patches collections. Just click to download and try-before-you-buy.
August 27th, 2014 – Bio-Mechanic Beats 3 is released. Check out the demos and free Acid loops pack.